Quality & Compliance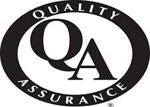 With an increased proportion of technology, we are offering a qualitative assortment of products. Backed by a team of experts, the offered products are manufactured using high quality raw material and advance technology in order to meet the industry standards. The raw materials used in the manufacturing process are sourced from the trustworthy and certified vendors of the market. The offered range of products is tested on various parameters by our experienced quality controllers using modern testing tools and devices to ensure their optimum functionality.
We believe that "Customer Satisfaction" is the measure of our work efficiency. It is not only our products that have claimed a wide list of satisfied clients but also our timely response to their needs. We offer technically accurate range of industrial Air Handling Unit, Air Washers, Air Filter, Pre Filter, Fine Filter, Hepa Filter, Mini Pleat Hepa Filter, Bag Filter, Hi-Temperature. Hepa Filter, Air Pipeline Filters, Gas Pipeline Filters, Liquid Pipeline Filters, Pocket Filters, Vacuum Filters, Hvac Filters, Wire Mesh Filter, Fuel Filters, Microvee Filter, activated carbon filters,AHU UNIT, Air Curtain, Air Washer, Axial Flow Fan, Cellulose Paper Pad, Fan Coil Unit, Fresh Air Unit,Grill,Damper, Diffusers, Pressure Relief Damper, Motorized Dampers, Acrylic Inclined Manometer, Magnehelic Gauge, Pass Box, Cooling Tower Fan Hub, Cooling Tower Motors, Cooling Tower Packing Pall Ring, Cooling Tower Pall Ring, Cooling Tower Sprinkler, Cooling Tower Sprinkler With Distribution Pipe, Cooling Tower Fan, Cooling Tower Spray Nozzles, Cooling Tower PVC Fills etc. That meet and exceed customer expectations. We have successfully carved a position for ourselves based on our capabilities and caliber. With a satisfied list of customers all over the world, we have improved ourselves as a company and are motivated by constant customer satisfaction. We appreciate suggestions from our valued clients as these have helped us to strengthen our foothold.